TKA 1:200™
All info is taken from the manufacturer, World A.B.S™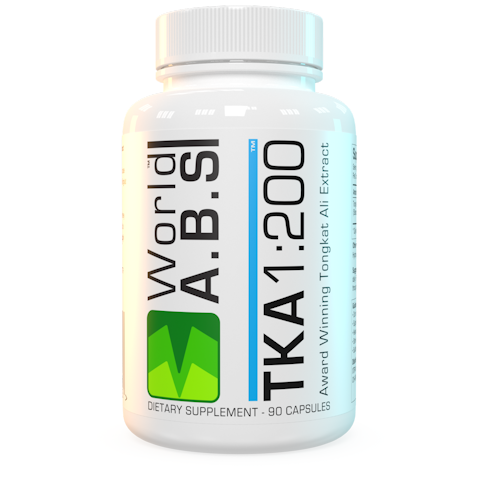 The Best Tongkat Ali Extract Available!
Standardized 1:200 Tongkat Ali root extract is the bodybuilding community's best kept secret when it comes to safe, effective testosterone boosting. To ensure we produce the finest award winning extract we work in close collaboration with suppliers, selecting the best Indonesian Tongkat Ali root for production.
These sustainably sourced chipped Tongkat Ali roots are then transported to Europe where the root undergoes a new extraction process employing High-Performance Liquid Chromatography analysis. The HPLC analysis monitors the extract during the liquid stage to meet our specific requirements before drying. This premium quality extract is unique to TKA 1:200 and only available in TKA 1:200 through World A.B.S or one of our selected retailers.
Our finished TKA 1:200 extract is then encapsulated into XTR DRS™ capsules designed specifically for acid-sensitive ingredients preserving the quality of the active compounds, only releasing them at the correct Ph for maximum effect.
Safety, Standards & Quality
TKA 1:200 is produced to a specification of 2.4% Eurycomanone content, this provides a safe, natural Tongkat Ali extract at the peak of its effectiveness.
Our finished extracts are then independently tested by SGS UK to ensure they meet our strict specifications for global safety standards. Click HERE to view the latest Certificate of Analysis for 2.4% Eurycomanone Tongkat Ali Extract.
DRS - The Perfect Delivery
Many of the active compounds found in Tongkat Ali extract are acid sensitive, making their oral bioavailability around 7% to 12%.
When administered in standard capsule form, the bioavailability of Eurycomanone rises to around 45%. While using DRS (Delayed Release System) Capsules designed purposely for acid-sensitive ingredients, the bioavailability rises to around 90%.
Click HERE for a video explaining more about DRS.
(opens in new tab)
World A.B.S - Tongkat Ali Extract
Quality Begins At The Roots
Sourcing The Best Tongkat Ali Roots
To source the finest Tongkat Ali root, we employ an Indonesian based agent who specializes in raw material sourcing, our agent visits several reputable Tongkat Ali growers and chipped root suppliers to inspect the available stock first hand and negotiate prices on our behalf.
This flexibility in our supply chain ensures we always receive the finest quality Indonesian Tongkat Ali root at a competitive price.
Modern HPLC Extraction Methods
At World A.B.S we demand extream standards and consistent production quality, because of this we outsource our Tongkat Ali root extraction to a European based, AFNOR Certificated (cGMP) partner facility with over 35 years experience in the extraction and purification of plant materials for use in the nutraceutical and health food industry.
Ingredients
Per size 0 (zero) capsule
Active ingredients AMT
---
Tongkat Ali extract (2.4% Eurycomanone) 400mg
---
Other ingredients AMT
---
HMPC (Hydroxypropylmethylcellulose) used in the capsule shell only, this is NOT a filler.
---
Bodybuilding Grade Tongkat Ali Extract
Tongkat Ali Root Extract has undergone several independent trials; the results of these show that with an intense strength training program over a five week period, participants using standardized 1:200 Tongkat Ali extract vastly increased muscle size and strength while reducing body fat compared to participants receiving the placebo.
Why TKA 1:200™ ?
 HPLC Standardized 2.4% Eurycomanone.
 DRS Capsules for Ph targeted release.
 Consistent quality and results.
 100% pure, NO Charcoal smell or taste.
 Produced in Europe according to cGMP standards.
Water Extracted.
Non GMO.
Product Spec
| | |
| --- | --- |
| Active Ingredients | 400mg Tongkat Ali Extract (2.4% Eurycomanone)Â  |
| Other Ingredients | Hydroxypropyl Methylcellulose ( Vegetarian Capsule Shell) |
| Capsule Size | 0 (zero) |
| Capsule Form | Vegetarian safe, XTR DSR Duration Release Capsules |
| Production | Certificated GMP Standards |
| Per Container | 90Â Capsules (36 grams of 1:200 Tongkat Ali Extract) |
| Serving Size | 1 Capsule |
| Directions | Directions For Use: Take 1 capsule three times daily |
| Suggested Use | For best results spread your capsule intake evenly throughout your day |
| Common Uses | TKA 1:200™ is used as a safe effective testosterone boosting supplement, used successfully for PCT aiding the recovery of the body's own natural testosterone production |
| Extended Use | TKA 1:200™ can be used continually for up to 15 weeks, a break period spanning 40% of your chosen on cycle time is recommended, No post cycle therapy is required. |
Click HERE to order!
LEGAL NOTE: The info above was provided by the manufacturer and has not been evaluated by the FDA or any other medical body, and as such TKA 1:200™ is being sold as a dietary supplement. It is not intended to treat, cure or prevent any condition, illness or disease.
Essential Reading!
Tongkat Ali Diet, Dose & Side Effects Info.
Read More